Midline wafer butterfly valve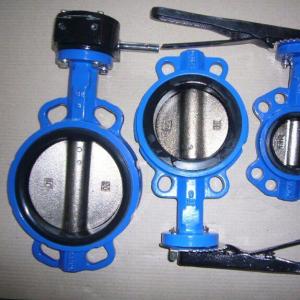 Midline wafer butterfly valve
Midline wafer butterfly valve Product introduction

 Midline wafer butterfly valve overview:
The Midline wafer butterfly valve has simple structure and reasonable design. Rotate handle 90°, can switch valve easily, and can keep valve stay at the angle needed.
Midline wafer butterfly valve features
● Axillare Adopting no-pin connection, compact structure, easy to transport, install and maintain.
● 90° on/off, worm gear transmission, small operating torque for energy saving.
● Soft seal, zero leakage, long service life.
● Flow characteristic tend to straight line, prefect regulation performance.
● Various of material for parts, can adapted to multiple mediums.
● Surface coating with epoxy resin, well appearance and corrosion resistance.
Midline wafer butterfly valve Technical parameters

Midline wafer butterfly valve Adoption Standard
| | | |
| --- | --- | --- |
| | Adoption standard | Optional standard |
| Design Manufacture Acceptance | GB/T12238-2008 | ISO/DIN10631、API598 |
| | GB/T12221-2005 | ISO5752 |
| | GB/T9113-2010 | ANSI B16.5、ISO7005、JIS B2238、2239 |
| | GB/T13927-2008 | ISO/DIN5208-1987 |
| | GB/T12220-1989 | ISO05209-1987 |
Midline wafer butterfly valve Performance parameter:
Product Name

Midline wafer butterfly valve

Connection

Wafer type

Nominal diamater

DN40~DN150

Nominal pressure

PN10/PN16

Test pressure

Shell test:PN×1.5

Seal test:PN×1.1

Surface treatment

Epoxy coating

Driven type

Steamlined Aluminum Handle or High Strengh malleable Iron Handle

Applicable temperature

-30℃~180℃

Applicable mediums

Water, Salt, Acid, Alkali, Nature gas, Air, Alcohols, oils, food, steam and so on.
Midline wafer butterfly valve Main part material

Midline wafer butterfly valve Optional materials for parts
| | |
| --- | --- |
| | Optional Materials |
| | Ductile Iron(DI), Gray Cast iron(CI), Cast Steel(WCB), Stainless steel(CF8/CF8M) |
| | Ductile iron nylon coating(N),Plated ductile iron(D), CF8(P), CF8M(R),Aluminum bronze(T) |
| | EPDM , NBR. PTFE, VITON, EP, EPDM ,EPDM |
| | 416SS 316SS 304SS CS45#coating with Ni,P |
| Actuator | Cast iron worm gear reducer, Cast aluminum worm gear reducer |
Midline wafer butterfly valve Main dimension

Midline wafer butterfly valve Product order instruction

Matters need attention for installation
1. Pipeline wafer type flange standard should be in accordance with the standard of butterfly valve, dedicated flange of butterfly valve is recommended for wafer type connection flange.
2. Users should check the working conditions if it is accordance with the butterfly valve.
3. Lumen and sealing surface should be cleared up before installation, no waste adhering.
4. Both side of valve seat extruded as seal washer of flange, no need to use seal washer for butterfly valve
5. The butterfly valve could be installed at horizontal, vertical and any other angles of pipelines, and could be used in two-way.
6. The butterfly valve can not be installed at the corners of pipeline, no handstand installation allowed.
7. The butterfly valve must be closed when installing, to assure valve plate not to impact with the pipeline flange.
8. Verify flange welded without defects. Can not weld after installation to avoid to scald rubber articles and antiseptic coatings.
9. For abnormal situations on switching, should check it out, remove faults, do not open or close the valve with external force.
Midline wafer butterfly valve Related Products

Previous:Pneumatic driven butterfly valve